Ask a Graduate: Elizabeth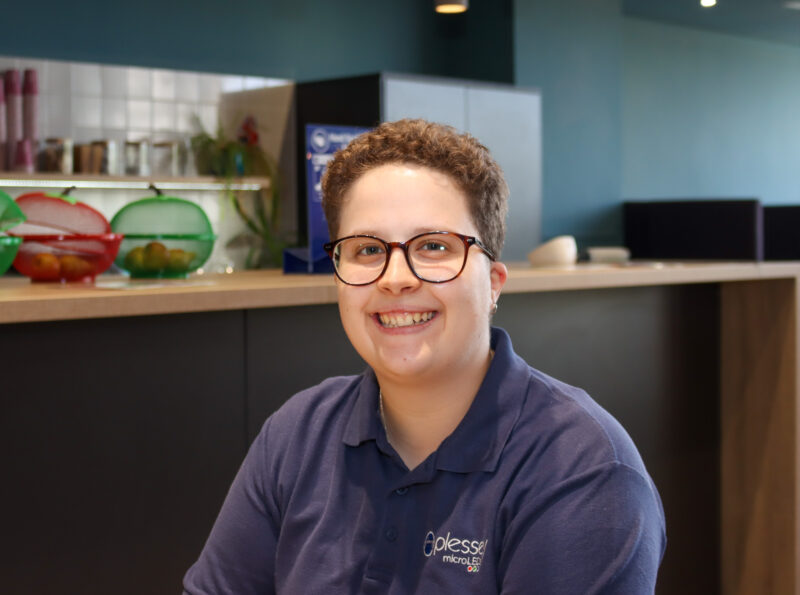 Meet Elizabeth, a Graduate Engineer working in the Development and Integration Engineering team at Plessey.
What did you study at university? When did you graduate?
I studied Physics with Professional Experience at the University of Salford and graduated in 2021. I then did a postgraduate MPhil (Masters of Philosophy) degree in the Built Environment at the same research facility I did my professional experience year with – Energy House Laboratories – also based at the University of Salford. I was awarded my MPhil in April 2023, earlier this year, and my graduation will take place this summer!
Have you always been interested in science and engineering? If yes, what ignited your passion for these subjects?
I have always been quite curious about how things work, and I enjoyed science at school. My passion for science, in particular physics, was really ignited by having a few brilliant science teachers during my later years at school through my GCSEs and A-Levels. Having teachers who made their lessons enjoyable as well as challenging made a huge difference. They also didn't just stop at physics in the classroom – I remember having in-depth conversations in class about 'physics in the real world' and that's what made me realise I wanted to pursue physics at university, and then as a career.
Why did you choose to apply for a graduate position at Plessey?
Plessey seemed like a really unique place to work in Plymouth which applies physics and other branches of science and engineering. Not only did I see links between what I had studied at university for my physics degree and some of the things they do here, but also the collaborative, friendly feel of the company really appealed to me.
What is your current role and what do you enjoy most about it?
I am a graduate engineer and I really enjoy the opportunities I have to be able to learn and train, and then apply the things I've learnt to relevant project work.
On a wider scale, the graduate programme allows us as graduates to rotate through the different departments of the company so that we gain an in-depth understanding of each department and how their roles are important. In our first couple of weeks, we were given a general overview of the company, and now we are spending 6-8 weeks in each of the process engineering departments to allow us to further our knowledge and training.
What does a typical day/week look like?
One day is never the same as the next, but generally my week will involve training in the FAB (be it on tools or applying research techniques), some learning in the style of a small seminar, and then project work. I have been involved with various projects so far, all relevant to the needs of the company, and they have contained a mixture of independent and collaborative work. Sometimes I also get involved in meetings that my project work links into.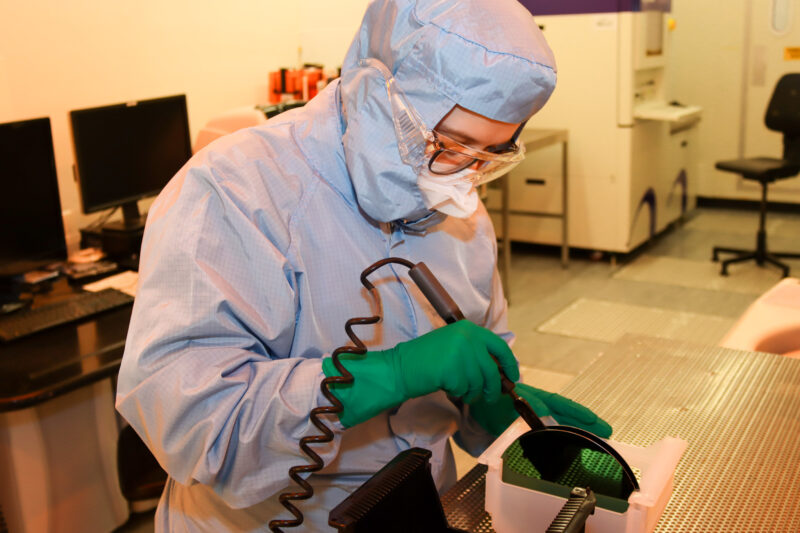 What has been the highlight of working at Plessey?
I really enjoyed my time in the photolithography department, initially learning about the different tools and what they do, and then using those tools to complete projects. I undertook a lot of project work during my time in the department, from requalifying a tool to writing procedure documents for inspections and measurements. I've now started in the etch department and am looking forward to training there and starting some new projects.
How do you see your career developing in the next few years (hopefully at Plessey)?
I am looking forward to finding my role within the company once I've completed my graduate rotation – I really enjoy the problem-solving side of things here, so getting stuck into that and collaborating with people across the company more would be great.
I am also a STEM ambassador. Promoting science and technology to people of all ages, in particular younger individuals, is really important and something I'd love to continue doing, where possible, through Plessey.
Additionally, at some point, I'd like to work towards becoming professionally registered.
Do you enjoy living in the South West?
I was born and grew up here in Plymouth. I moved to Salford, just outside of Manchester, to study at university there but all of my close family live in Plymouth and following the pandemic I realised I wanted to live closer to them again. I love going for hikes on Dartmoor with my sister or wandering around the Barbican with my parents. As much as I loved my time living up near Manchester, nothing quite beats being back home in Plymouth. The weather is marginally better here too!