Why we need to change the image of engineers and engineering
Category: Blog
Nov 05, 2019
Image Is Everything
That 'a picture is worth a thousand words' has never been so true. In today's digital age, image is everything. So it'll come as no surprise that the fastest growing social media channel is Instagram.  An almost entirely visual platform, Instagram, with its 1 billion monthly users, is growing faster than any other social media outlet, overtaking Facebook and Snapchat in the process. As Instagram's popularity rises, so too does the social network's influence over our choices and behaviour: where we eat, where we travel, how we look and what we admire.
Images we see online as we scroll grab our attention better than text, and that includes images that show up in search engines: 60% of consumers are more likely to consider or contact a business when an image shows up in local search results.
Young people have a narrow image of engineers
Food for thought when you search 'engineer' online. The resulting images offer a very narrow view, one that supports stereotypical ideas that engineering only happens in hard hats, on construction sites.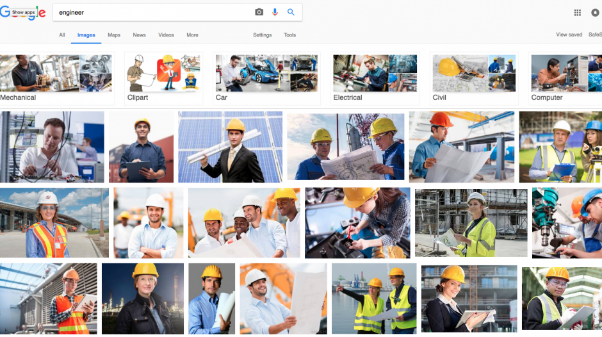 That's certainly one aspect of engineering. But what about the other roles that engineers play?  What about the engineering roles that help people and planet, like the This is Engineering campaign, careers that make a difference, that are increasingly attractive to young people?
New research[i] finds that almost half of young people aged 11 to 19 think making a difference is an important factor in choosing a career, and that proportion has increased significantly over the last four years. Whereas 32% of young people aged 7 to 19 said that making a difference was an important consideration when choosing a career in 2015, 42% agreed with the same statement in 2019. While many of the emerging and in demand jobs identified by the World Economic Forum are engineering jobs that have a positive impact on society, 76% of young people aged 11 to 19 say they do not know a lot about what working in engineering means.
Engineering for the health and wealth of planet and people
Yet, take, Catastrophe Consultant, Josh Macabuag for instance. Inspired by buildings, bridges and a desire to be useful, Josh never imagined he would be helping respond to natural disasters. A structural engineer, Josh volunteers his engineering skills to work out the safest way to reach casualties in collapsed buildings. Or Power Pioneer Dr Enass Abo-Hamed. A determination to protect the environment and help those in need drove Enass to set up her own company producing batteries that store renewable energy and help provide power for hospitals, schools and homes in the developing world. These are just two of the sixteen stories of real young engineers, featured in the Royal Academy of Engineering's This is Engineering campaign, who followed what they loved into engineering.
Our own engineers, do not fit the image presented online, so that's why we signed the pledge to help shape how engineering is seen by future generations.
An outdated view of engineers has consequences
Engineering has a vital role to play in driving social and economic growth and addressing some of society's biggest challenges, which is why, if we are to encourage future engineers into the profession, the time has come for us all to challenge the stereotypical image of engineering; our futures depend on it, as Dr Hayaatun Sillem, Chief Executive of the Royal Academy of Engineering, further explains:
"Engineering and technology play an incredible role in shaping the world around us and in addressing some of society's biggest challenges, from providing a sustainable supply of food, water and clean energy, to advancing healthcare, and keeping us safe and secure. We know that young people increasingly want to tackle these issues and make a difference in the world, but unfortunately the lack of understanding around engineering is stopping them from exploring careers that will enable them to do this.

"This matters because we face an estimated shortfall of up to 59,000 engineers each year in the UK, and there is a pressing need to diversify our engineering workforce since only 12% of professional engineers are female and 9% are from black, Asian and minority ethnic backgrounds. That's why we're making 6 November This is Engineering Day, to raise awareness of what engineers really do and celebrate those that are shaping the world we live in."
Changing the image of engineers and engineering
To shatter the stereotypes that are discouraging young people from taking up engineering careers, the Royal Academy of Engineering has launched a public photo library and is appealing to all those companies and individuals influencing society's image of engineering to use this free resource in its ambition to change search engine image results for the word 'engineer', so that, over time, visibility of the true variety and diversity of engineering will increase.
And that is why today, on This is Engineering Day, Plessey are joining forces with the Academy to challenge the public stereotype of the engineer by celebrating the engineers shaping the world around us, whose ingenuity makes the magic happen within our organisation.
[i] Research carried out by EngineeringUK. Data from the 2019 Engineering Brand Monitor captured in Jan – Feb 2019, based on a sample of 2,516 pupils aged 7-19, 1,023 educators, and 1,810 members of the public