Plessey awarded two trophies at the Electronics Industry Awards for its GaN-on-Silicon microLED technology
Category: Press Release, Awards
Jun 25, 2019
In the stunning setting of London's Tower Hotel, the 2019 Electronics Industry Awards crowned the sector's leading products, companies and professionals as champions in front of an audience of esteemed professionals.
Plessey had plenty of reasons to celebrate as they won two accolades. The company collected the Display Product of the Year and the Embedded Solution Product of the Year for its microLED Emissive Display.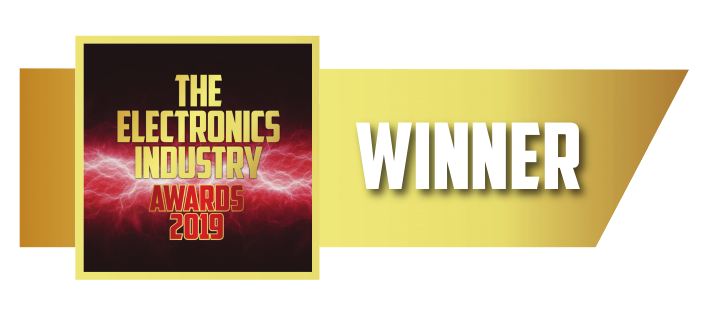 Commenting on the wins, editor of CIE magazine, Niamh Marriot said:
"As demand for microLED displays is accelerating, Plessey's GaN-on-Silicon is recognised as the only technology platform capable of addressing all of the challenges involved with manufacturing microLED displays in high volumes cost-effectively. It is also one of the only viable solutions that can enable products that are not only compact enough to be worn without restricting the overall experience for AR applications and in HUDs, but also provide the size, weight, power and luminance needed. I am thrilled that this product has won two awards. With its integrated components and excellent thermal performance, it is a standout display."
Mike Lee, President of Corporate and Business Development at Plessey, said:
"It is a great honour to be awarded these two accolades from the Electronics Industry Awards. As the only provider of GaN-on-Silicon based monolithic microLED displays, Plessey is disrupting the AR/VR market with proprietary technology that delivers a fully immersive, high brightness, high definition display experience. At Plessey we are very proud of our microLED technology and the solutions we are able to provide that enable the next-generation AR/VR display experience for consumer."
The event – organised by Datateam Business Media – has become a highlight of the industry calendar since its inception in 2018, where leading figures from the electronics field gather to celebrate their achievements and reward the market leaders from across the blossoming sector.
This year proved to be no different, as the afternoon began with an exclusive champagne reception where guests had an invaluable opportunity to network with peers, before being invited to sit down to enjoy a delicious three-course luncheon and the highly anticipated awards presentation.
The ceremony, hosted by comedian Ian Moore and household favourite Alan Dedicoat, saw 18 accolades presented to the leading products, companies and individuals that the electronics sector has to offer.
The full list of winners can be found here: www.electronicsindustryawards.co.uk/winners-2019
Following the success of the event, CIE advertisement manager Amy Wilton commented: "The winners from this year's event are great advocates for our prosperous industry. I would like to thank everyone who entered and voted, our judges, those in attendance and the sponsors of the event – without your support, occasions like this wouldn't be possible."
About Plessey
Plessey is an award-winning provider of full-field emissive microLED displays that combine very high-density RGB pixel arrays with high-performance CMOS backplanes to produce very high-brightness, low-power and high-frame-rate image sources for head-mounted displays (HMDs), and augmented reality (AR) and virtual reality (VR) systems. Plessey operates leading-edge 150mm and 200mm wafer processing facilities to undertake design, test and assembly of LED products, and a comprehensive suite of photonic characterization and applications laboratories. For more information, visit Plessey's website, Twitter, Facebook and LinkedIn pages.
Media Relations Contacts:
Sam Langridge, Marketing Manager | sam.langridge@plesseysemi.com | +44 1752 693 000
Paige Lee, Marketing Executive | paige.lee@plesseysemi.com | +44 1752 693 000